Increase The Shelf Life Of Your Serums And Makeup
Are you looking for a stylish place to store your makeup and serums? Somewhere dry and cool to prolong the makeup's shelf life? Add the Vevor to your vanity and pack it with all your beauty essentials.
The BeautyBar keeps your items cool and safe from various elements. It doesn't only keep the items cool, it can also warm the items up with a flip of the switch.
Key Benefits
Quality Materials – The BeautyBar runs almost silent, making it ideal for room or bathroom use. It's also designed with a durable tempered glass front that adds to its elegance and style.
Large Capacity – Our BeautyBar is built with your convenience and needs in mind. It's designed with shelves and baskets that can carry various beauty products with ease.
Multipurpose Fridge – The handy BeautyBar can keep items cold or warm, depending on your item's storage requirements. Plus, you can even store it in any vehicle so that your makeup is always within reach.
Portable Size – You can take this BeautyBar with you wherever you go due to its compact size. Its secure spring lock makes it easy to open or close. This feature also prevents your things from falling out.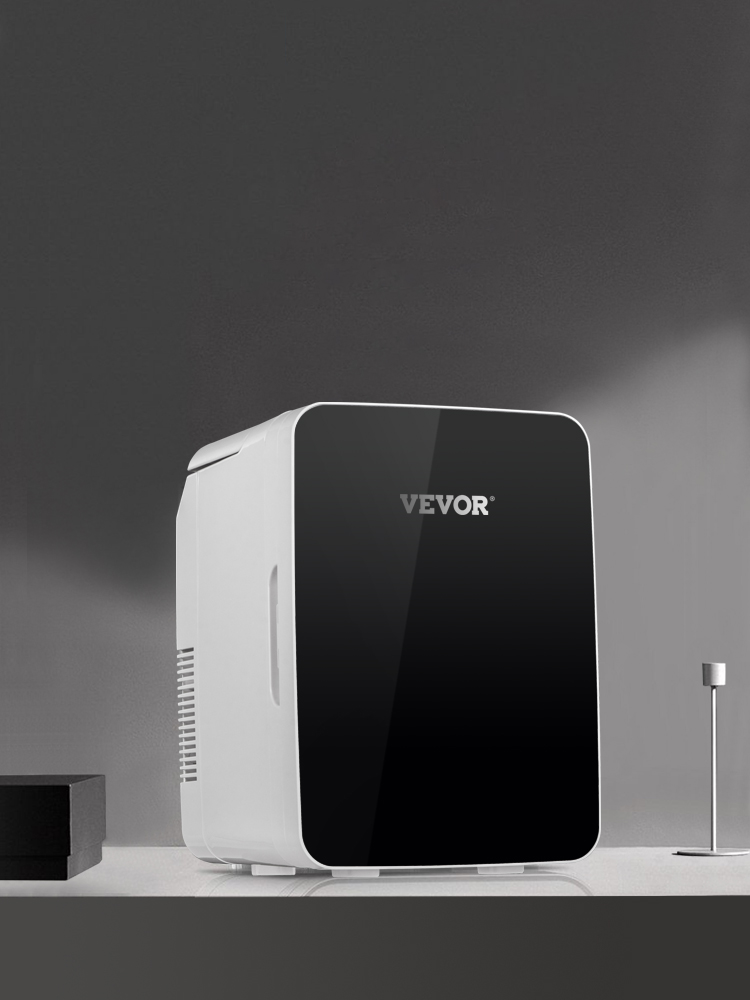 Mini Fridge Portable Cooler Warmer
We offer you this super-versatile mini fridge, with an elegant look and small size; It is most people's favorite in home, car, office, bar, dorm, etc. It works well as a cooler and warmer, perfect for storing food, drinks, beer, snacks, breast milk, and so on. Use it to store your skincare and beauty products and make it your personalized fridge.
10L/15L of Capacity
Cool and Warm Mode
AC/DC Power Adapters
Go Green & Ultra Quite
Portable & Compact
Tough Equipment & Tools, Pay Less
VEVOR is a leading brand that specializes in equipment and tools. Along with thousands of motivated
employees, VEVOR is dedicated to providing our customers with tough equipment & tools at incredibly
low prices. Today, VEVOR's products are sold in more than 200 countries and regions with 10 million
plus members worldwide.
Why Choose VEVOR?
Premium Tough Quality
Incredibly Low Prices
Fast & Secure Delivery
30-Day Free Returns
Multiple Functions
Cooling and warming functions can be simple changes by flipping a switch. It cools downs to 68℉ below the current temperature and warms up to 140℉. Whether it's winter or summer, this mini refrigerator is your best choice.
High Capacity
This makeup fridge for skincare has a large capacity of 10L/15L for your choice, which can hold many things, like five bottles of 460 ml beers and 15 cans of 250 ml beverage. Feel free to organize items inside, since the adjustable/removable shelves and one container basket can help you with that.
Easy to Move
Unlike the fridge with a side handle, our macro fridge with a large foldable top handle can secure food and drinks inside rolling over and keep them stay upright when moving. It is also easy to move from place to place thanks to its lightweight design.
Appealing and Quiet
The cooler/warmer with tempered glass front looks nice and elegant in any room or car. Due to the semiconductor operation, it works quietly enough to put in your bedroom without disturbing your sleep.
Considerate Design
Multiple vents at the back of the makeup skincare fridge are for heat dissipation and ensure long service life. Sleek edges look modern and prevent you and kids from scratching.
Various Use
We also offer you a household 110V/220V power cord and a 12V power cord. Cord Length: 5.5 ft. The best mini fridge for skin care is widely used in homes, offices, bars, cars, trucks, and boats.